Festival Passes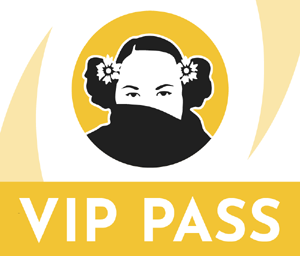 Your pass includes:

Official DisOrient t-shirt and festival bag, while supplies last
Access to all film screenings March 14-17, 2019
Catered Opening Night Reception and performance by No-No Boy, an audiovisual soundtrack of the Asian American experience at Jordan Schnitzer Museum of Art
Catered Closing Night Awards Gala at UO EMU Crater Lakes Rooms.
Exclusive access to the weekend Green Room (11 am – 6 pm) for beverages, snacks and socializing between films.
VIP passes do not guarantee a seat.  Please arrive 10 minutes before the published screen time for VIP Priority Seating.  VIPs who arrive after general admission has begun will be given seats on a first-come, first-serve basis until filled.
Daily Passes
$40 for all (6) film screenings on Saturday (films only)
$40 for all (5) film screenings and our catered Closing Night Awards Gala
Free Bus Pass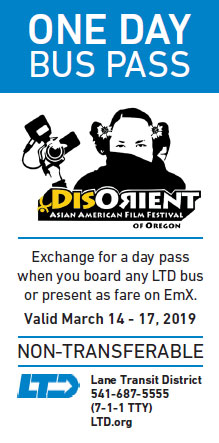 Yes, ride the bus for free to the festival! It's a Eugene thing! Just print this bus pass and exchange it for a pass when you board any LTD bus. Find out which bus and when it leaves on their website.