2019 Venues
The festival will be held at three different buildings at the University of Oregon campus.

Lawrence Hall on the University of Oregon Campus Room 177
1190 Franklin Boulevard Eugene, OR 97403
Jordan Schnitzer Museum of Art on the University of Oregon Campus
1430 Johnson Lane Eugene, OR 97403
UO Erb Memorial Union (EMU)
The EMU is located on the corner of 13th Avenue and University Street.
1228 University of Oregon Eugene, OR 97403-1228
Phone 541-346-3705
UO EMU Redwood Auditorium (Room 214)
Primary location of festival: Saturday 3/16/2019 and Sunday 3/17/2019 films
Click here for the EMU map, showing the location of the Redwood Auditorium.
UO EMU Crater Lake Rooms (Room 145/146)
Sunday 3/17/2019 9:15 PM Closing Reception Awards Gala.
Free Bus Pass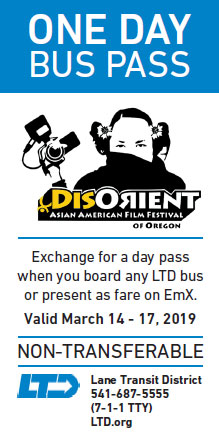 Yes, ride the bus for free to the festival! It's a Eugene thing! Just print this bus pass and exchange it for a pass when you board any LTD bus. Find out which bus and when it leaves on their website.
Parking
Faculty/Staff Permit lots are open parking and free after 6 pm on weekdays and on weekends except for spaces marked for service vehicles or "At All Times." Parking Meters are enforced Monday-Saturday.  Closest metered parking is along University Stree t between McArthur Court and the Erb Memorial Union (EMU)  as well as in the pay-to-park Lot 29A, Lot 13.  There are larger lots within several blocks walking distance at E. 14th and Kincaid (Lot 16A) and Lots 17 and 40 near Beall Hall. Download the Parkmobile App (parkmobile.com) for payment convenience. You can download the UO app, click on Maps, click on the 3 yellow dots, and check parking to see the parking lots.  Many are 5-hour meters.