MARCH 15-17, 2019
DisOrient is the premiere Asian American, social justice film festival of Oregon. Our films–"By us, for us and about us"–break open the one-dimensional stereotype of the "Oriental." We believe in the power of film to inform, heal and connect people. We bring power to our voice as we share our stories and advocate for social justice.
We are accepting film submissions
Deadline: November 9, 2018
Late deadline: November 30, 2018.
Categories
Feature Documentary
Feature Narrative
Short Documentary
Short Narrative
Music Video
Oregon Student Film Competition
Receive the DisOrient newsletter!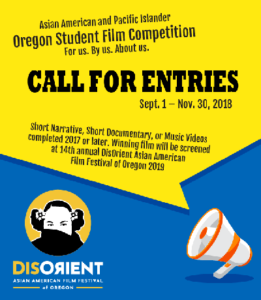 Contact Jason Cummings at jasonkcummings@disorientfilm.org for more information on the Oregon Student Film competition.